VOLUME 75 "OCTOBER SOUL FUSION"
London, are you ready to groove?
It's Monday, October 09, 2023, and the wait is finally over. Join us at 10 PM UK time for the grand premiere of Volume 75 – "OCTOBER SOUL FUSION" on LoveSoulRadioLondon.org. Get ready for an unforgettable night of soulful sounds, broadcasted straight from the heart of London, UK, courtesy of Mac's SoulCafe.
Why You Shouldn't Miss It
Soulful Bliss: Mac's SoulCafe has a reputation for delivering the very best in Soul and RnB, and Volume 75 is no exception. Prepare to be swept away by the enchanting melodies, heartfelt lyrics, and soul-nurturing rhythms that will be the soundtrack to your autumn.
Uninterrupted Grooves: We're giving you a solid two hours of pure musical pleasure – no commercials, no interruptions. It's just you and the music, creating an atmosphere that's perfect for unwinding.
London Soul Magic: Experience the unique blend of classic and contemporary tracks that only Mac can curate. "OCTOBER SOUL FUSION" is a musical journey that's designed to elevate your spirits.
Join the LoveSoul Community: Connect with music lovers from all corners of the globe as we unite in our love for soulful tunes that transcend borders and languages.
Stay Social: Share your thoughts, dedications, and favorite moments with us using these hashtags:
Set your alarms, spread the word, and get ready to immerse yourself in the soulful sounds of "OCTOBER SOUL FUSION." This is the musical event of the autumn, and LoveSoulRadioLondon.org is the place to be tonight at 10 PM UK time.
Don't Miss It! Tune in at 10 PM UK Time
Let's make this evening one to remember with the beats that touch your soul. See you there!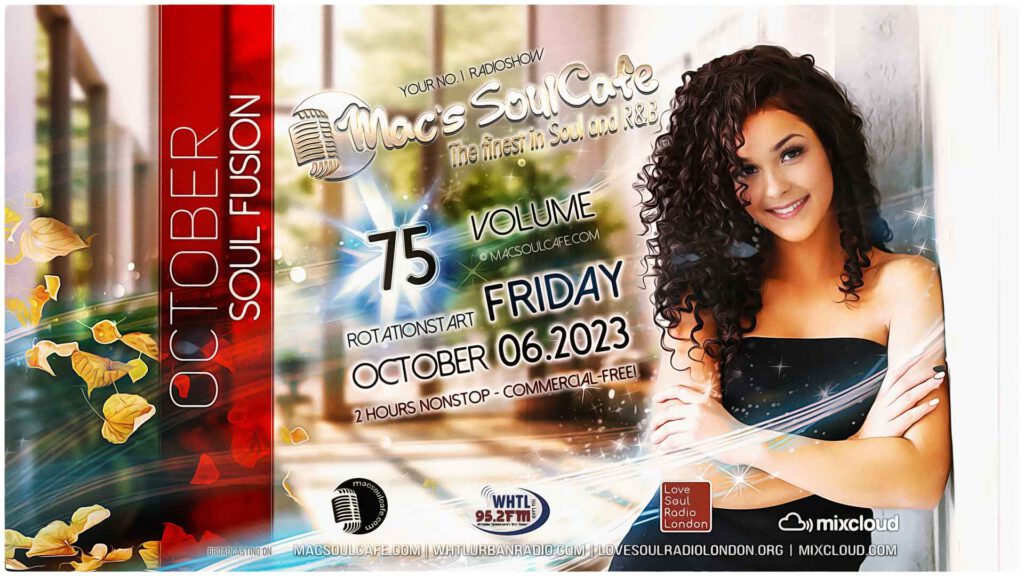 It's Friday, October 6th, 2023,
and you know what that means – it's time for the long-awaited rotation start of Mac's SoulCafe, Volume 75, "October Soul Fusion"! ??
Join me for the finest selection of Soul and RnB music that you won't find anywhere else. We're bringing you the best tunes from around the globe in this brand new episode,
and it's going to be a musical journey you won't want to miss!
Featured Artists include
Narada Michael Walden – NEW RELEASE
Cornell CC Carter – NEW RELEASE
BJ The Chicago Kid – NEW RELEASE
Dante Hawkins
Beverley Knight
Terron Parks
Rob Hardt – NEW RELEASE
Conya Doss
Club Nouveau – NEW RELEASE
Chubb Rock – NEW RELEASE
Jody Watley
Rina Chanel – NEW RELEASE
Ne-Yo – NEW RELEASE
Jay Love
October London
Lin Rountree
Snoh Aalegra – NEW RELEASE
Yas VW
Orlando Dixon
Toni Braxton
Rose Gold
Betty Wright
Victor Lundberg
Keke Wyatt – NEW RELEASE
Roé
Delegation
Eric Gable
ANDREA LUCAS
Tiffany Hines
Usher – NEW RELEASE
JC Sol – NEW RELEASE
Alex Vaughn
Mahalia
Leela James – NEW RELEASE
Evelyn "Champagne" King
Freddie Jackson
Bay Area
J. Brown
Euge Groove
Davina
Kim Tavar
Art Porter
Melba Moore
Janelle Monáe
and many more…
Don't forget to use these hashtags to spread the word and connect with fellow music lovers:
#MacsSoulCafe #OctoberSoulFusion #SoulMusic #RnB #NewMusicFriday #FridayFeeling #MusicIsLife
Get ready to groove, relax, and unwind with Mac's SoulCafe, where the soulful experience is always on the menu.
See you on the airwaves!
🎵 Discover the Perfect Fusion of Soul and RnB! 🎶
We're back with another captivating musical journey that's guaranteed to enchant your soul! 🌟
Welcome to Mac's SoulCafe, Volume 75: 'OCTOBER SOUL FUSION'—where the magic of October meets the mesmerizing rhythms of Soul and RnB. 🍂🎤
Rotation Start Date: Friday, October 6th, 2023
Join us as we dive into a world of soulful melodies and RnB grooves expertly curated to elevate your musical experience. From classics to contemporary hits, we've woven together a tapestry of songs that will leave you craving more. 🎧🍁
🌆 Where: Tune in at macsoulcafe.com 🕗 Time: Friday, October 6th.  October 2023

Get ready to be serenaded by the smoothest voices and grooves that resonate with the very essence of this enchanting season. 'OCTOBER SOUL FUSION' promises to be your perfect autumn companion.
Mark your calendars, set your alarms, and join us on this musical journey that celebrates the harmonious fusion of October's charm and the soulful rhythms that move us. 📅📻
🎶 Share the Love! Use our hashtags: #OctoberSoulFusion #MacsSoulCafe #SoulMusic #RnB #AutumnTunes
Don't miss out on the hottest spot for soulful tunes this October. 'OCTOBER SOUL FUSION' is your ticket to a world of musical delight. See you there! 🎉🍂🎶