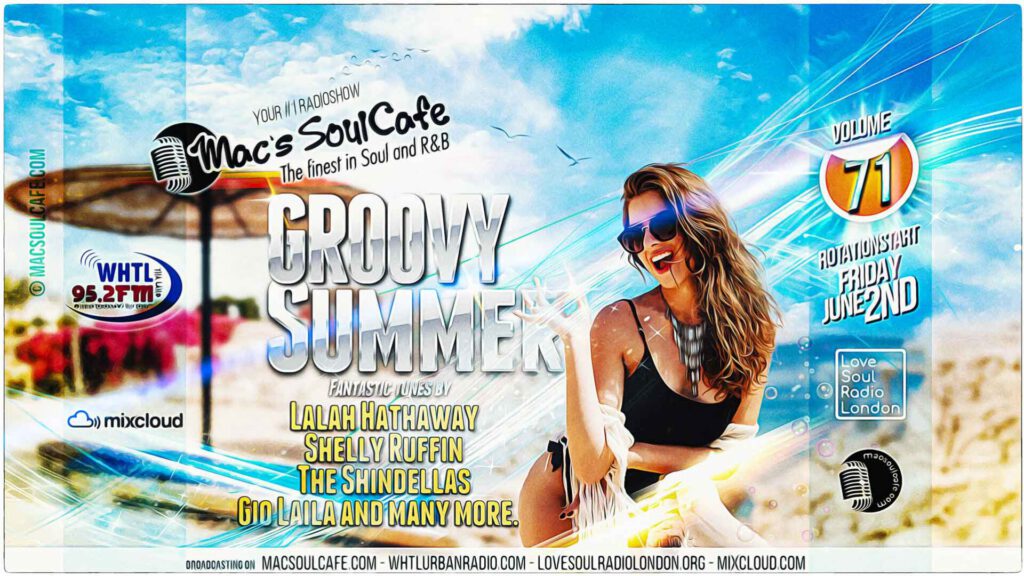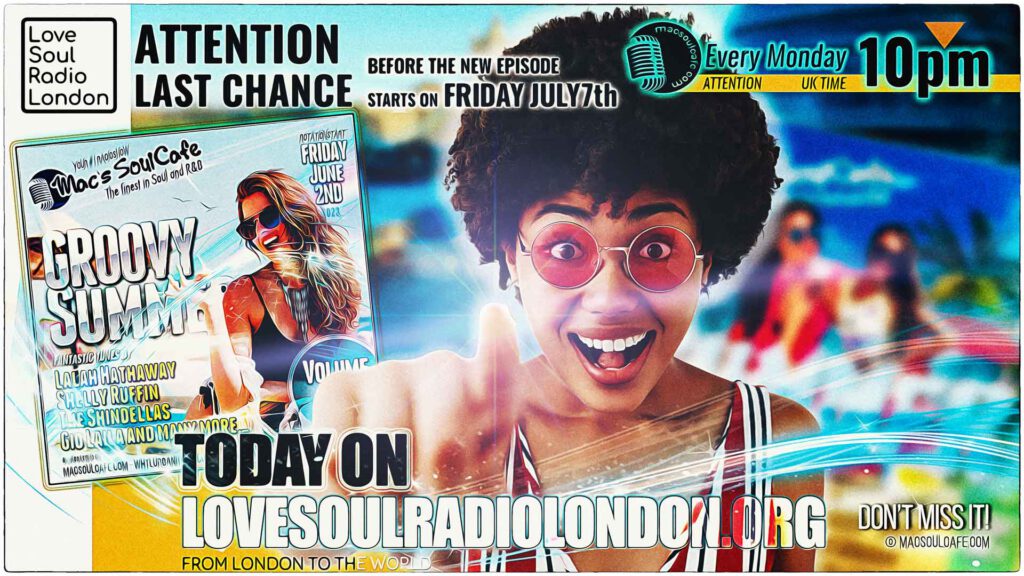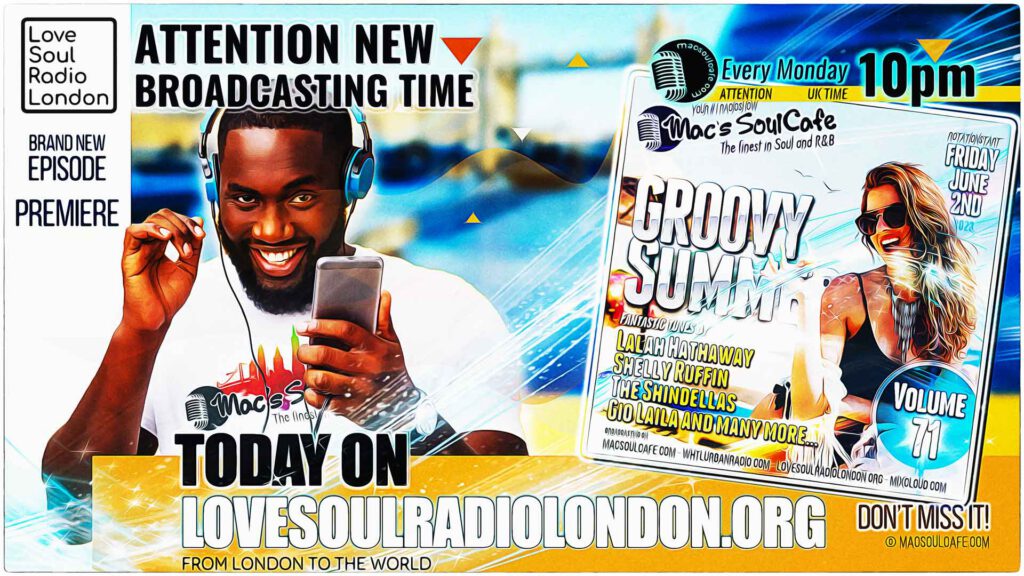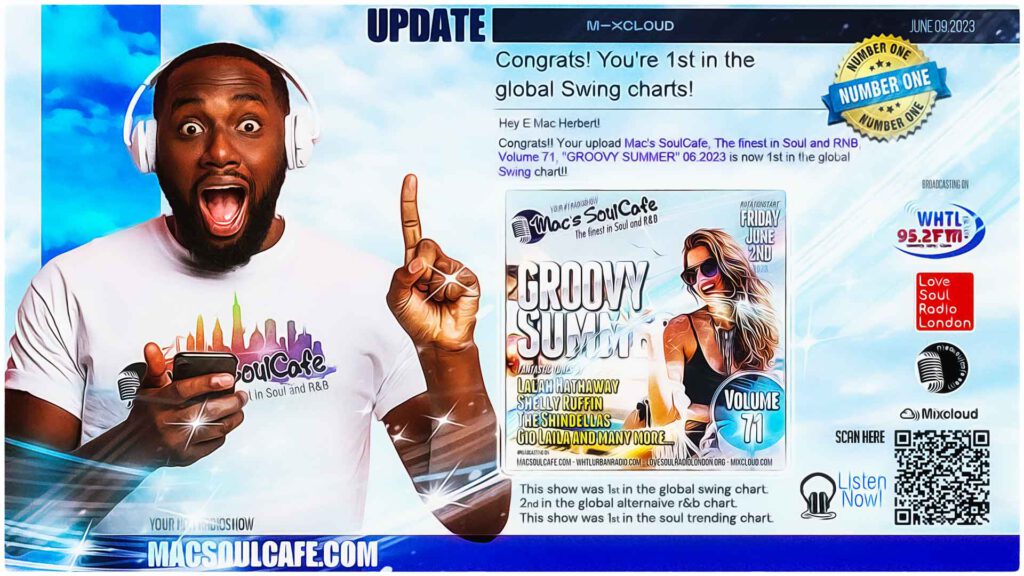 Dear Amazing Soul Family,
We would like to take a moment to express our heartfelt gratitude to each and every one of you who have been tuning in to Mac's SoulCafe, the finest destination for Soul and R&B music. Your love, support, and unwavering enthusiasm have made our journey an incredible one.
With immense joy, we want to share that Volume 71, "Groovy Summer," has achieved yet another milestone. We are thrilled to announce that Mac's SoulCafe has once again reached the top spot on the global swing charts! Additionally, we are humbled and proud to have secured the number one position on the soul trending charts. It is all thanks to your incredible support and passion for soulful music that we have achieved such recognition.
Let us continue this beautiful journey together, as we explore the boundless depths of soulful music. Stay tuned to Mac's SoulCafe, as we promise to keep bringing you the finest selection of tunes, pouring our hearts into every beat. Together, we will create more magical moments and celebrate the universal language of music.
With deepest appreciation,
E. Mac Herbert
Mac's SoulCafe
#MacSoulCafe #Gratitude #SoulFamily #MusicAppreciation #SoulfulJourney #ThankYou #NumberOne #GroovySummer
VOLUME 71 "GROOVY SUMMER" ON-AIR
Ladies and gentlemen, gather 'round and get ready to groove! It's a sensational Friday, June 2nd, 2023, and we are thrilled to announce the highly anticipated premiere of the brand new episode of Mac's SoulCafe: "GROOVY SUMMER"!
On the playlist
Pavel Svetlove
Vogelmann
Stephane Deschezeaux
Terry Ronald
Nigel Lowis
Diamond Ortiz
DW3
Greg Manning
Chaka Khan
Mario Biondi
Phony Ppl
JoJo
The Shindellas Brand New Release
Shelley Ruffin
The Terri Green Project
Barry White
Romina Johnson Brand New Release
Helen Bruner Brand New Release
Terry Jones
JOE_LEAVY Brand New Release
Althea Renee Brand New Release
Teddy Swims Brand New Release
Miracle Thomas Brand New Release
Rob Hardt Brand New Release
Lalah Hathaway Brand New Release
Kenyon Dixon New Release
Phillip Leo
and many more…
Broadcasting on
macsoulcafe.com,
whtlurbanradio.com, Cleveland, Ohio, USA,
home of the No. one Radioshow Mac's SoulCafe!
lovesoulradiolondon.org straight from London, UK
Attention all soul music lovers! We have an exciting announcement that will make your Friday even more fabulous. Get ready to groove to the rhythm of the brand new episode of Mac's SoulCafe, titled "Groovy Summer," starting on Friday, June 2nd, 2023.
Prepare yourselves for a soulful extravaganza like no other! "Groovy Summer" is packed with the finest artists from around the world, guaranteeing a musical experience that will leave you wanting more. With Mac's keen ear for talent, this episode promises to be a remarkable showcase of soul music at its best.
We have an incredible lineup of artists for this episode, each one bringing their unique flavor to the mix. Get ready to be enchanted by the soulful sounds of Johnny Britt, Gio Laila, Gina Thompson, Lalah Hathaway, Shelly Ruffin, The Shindellas, Helen Bruner, and many more. These exceptional talents will take you on a journey through the depths of soul, igniting emotions and filling your heart with joy.
Tune in to Mac's SoulCafe on Friday, June 2nd, 2023, and let the magic of "Groovy Summer" sweep you off your feet. It's time to kick off the weekend with soulful beats that will set the tone for an unforgettable summer.
🎶🌞🔥 #MacSoulCafe #GroovySummer #June2023 #SoulfulVibes 🔥🌞🎶
Broadcasting on
macsoulcafe.com,
whtlurbanradio.com, Cleveland, Ohio, USA,
home of the No. one Radioshow Mac's SoulCafe™!
lovesoulradiolondon.org straight from London, UK
mixcloud.com, worldwide
Streaming 24/7, commercial-free, reaching 177 countries around the globe!
We promote your record, send it to promo@macsoulcafe.com
The 2-hour show will be broadcast only on the given radio stations!