Greetings to all our esteemed listeners of Mac's SoulCafe.
We have some fantastic news to share with you today! Mac's SoulCafe, the leading show that brings you the very best of Soul and R&B music, is now airing at a new broadcasting time on Love Soul Radio London. Starting Monday, April 24.2023, you can catch the show every Monday at 10pm, UK time, featuring a non-stop two-hour mix of the most exceptional tunes. And, as always, the show will be entirely commercial-free, allowing you to experience the music in its purest form.
So, mark your calendars and make sure to tune in for a fantastic musical journey with Mac's SoulCafe. We guarantee that you won't be disappointed!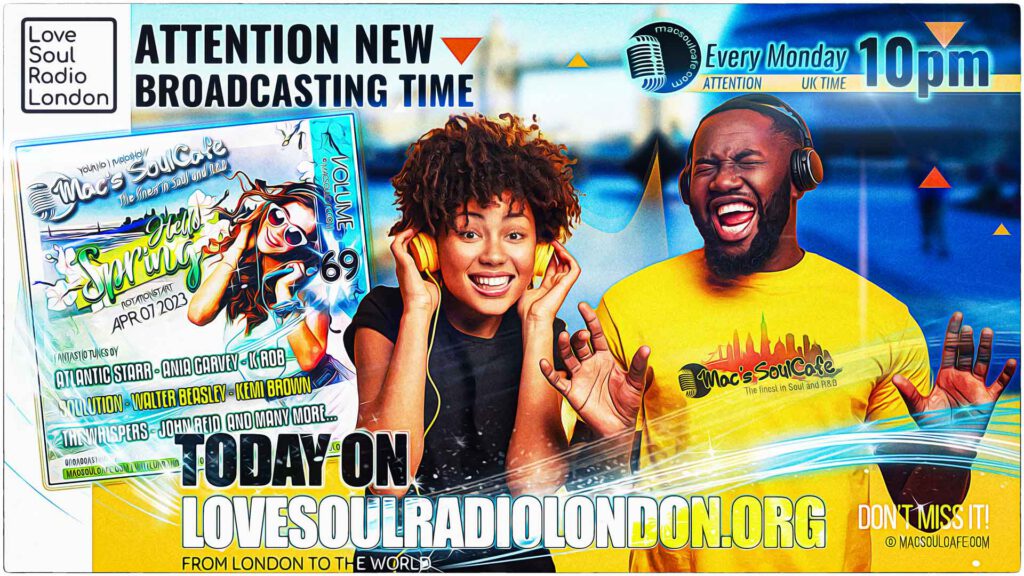 Ladies and gentlemen, it's time to turn up the volume and get ready for some serious soulful sounds! We are thrilled to announce the release of the latest episode of Mac's SoulCafe, the finest in soul and R&B, Vol. 69 "HELLO SPRING".
Starting today, Friday, April 07, 2023, the rotation of this incredible 2-hour set will begin, featuring the best artists from around the world! Get ready to be transported by the smoothest grooves and the most soulful beats in the game.
Whether you're looking for a relaxing night in or a party atmosphere, Mac's SoulCafe has got you covered. From the old school classics to the latest hits, this episode promises to be one of the best yet.
So don't wait any longer – tune in to Mac's SoulCafe and let the music do the talking. With 2 hours packed with the finest artists in soul and R&B, this is an event you simply can't afford to miss! So get ready to embrace the season of renewal and revival with the newest episode of Mac's SoulCafe, Vol. 69 "HELLO SPRING"!

On the playlist:
Lukas Setto – brandnew Release
The Whispers
Lizzo
Lou Rawls
Barry White
Michael Jeffries Daughter & Son
PROF ft. REDMAN
Dilly Tha Dogg
Atlantic Starr
Jazmine Sullivan
Anderson Paak
Maysa – brandnew Release
Babyface/Doechii – brandnew Release
Soulutions
Randy-Hall
Diane Marsh
Ania Garvey
Metro Beatz
Kloud 9
October London
The Groove Association
Deborah Bell
Georgie B
Wendell B
Papa Justify
Diggy
STONE PAXTON – brandnew Release
Marc Staggers – brandnew Release
Kem
Toni Braxton
K-Rob
Rahsaan Patterson
Kemi Browne
John Reid
The Whispers
IshmaleSings
Atlantic Starr
Stokley – brandnew Release
Michon Young – brandnew Release
Ted Winn
Kadeem Tyrell
Tony Lindsay – brandnew Release
Gregory Porter
Walter Beasley
and many more…
Broadcasting on
macsoulcafe.com,
whtlurbanradio.com, Cleveland, Ohio, USA,
home of the No. one Radioshow Mac's SoulCafe!
lovesoulradiolondon.com straight from London, UK
mixcloud.com, worldwide
Streaming 24/7, commercial-free, reaching 177 countries around the globe!
We promote your record, send it to promo@macsoulcafe.com
Missed one of our shows?
No problem!
on www.mixcloud.com/e-mac-herbert/
You can listen to all shows 24/7, as often as you want!
(Only the first hour!)
The 2hours show will be broadcast only on the given radio stations!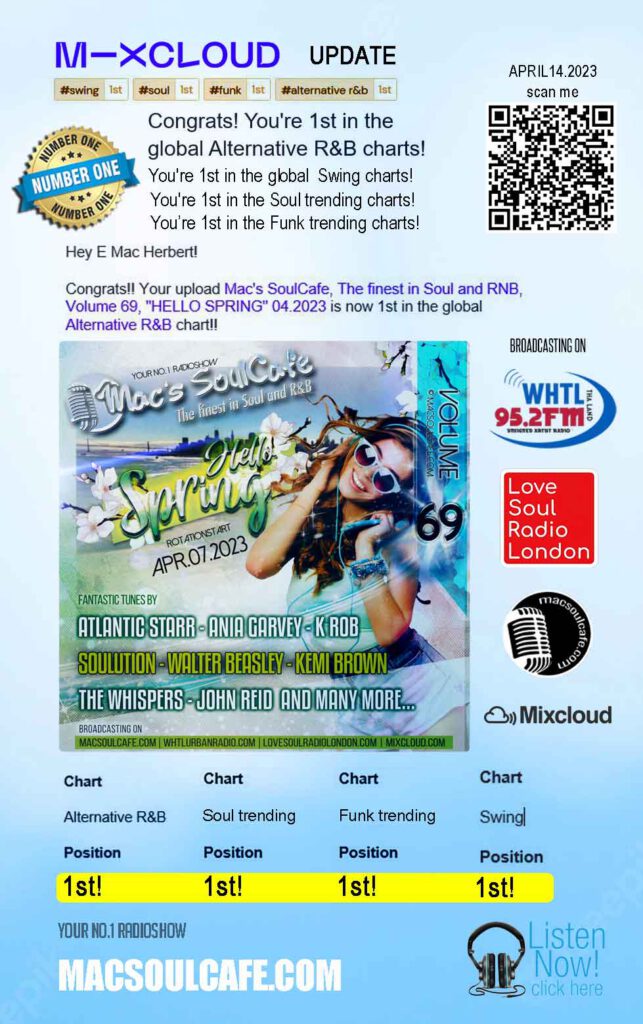 We have NEWS! Unbelievable but true! Mac's SoulCafe, The finest in Soul and R&B, Volume 69 "Hello Spring" is now also number 1 in the global Swing Charts! So for the first time in 4 charts at the same time number 1!
It's unbelievable, thank you again for your support!
I wanted to take a moment to express my heartfelt gratitude to all of you for tuning in to my show and making it such a huge success. Your support and loyalty have meant everything to me, and I'm so grateful for the opportunity to share my love of Soul and R&B music with all of you.
I am thrilled to announce that Mac's SoulCafe has been ranked as the #1 global alternative R&B show, as well as the #1 soul and #1 funk trending charts. It's an incredible honor to receive such recognition, and I know that none of it would have been possible without your unwavering support.
Once again, thank you from the bottom of my heart for your dedication to Mac's SoulCafe. I couldn't have done it without you, and I look forward to many more incredible musical moments together.
With heartfelt appreciation,
"Get ready to groove to the smoothest tunes around, because Mac's SoulCafe is back with a brand new episode! Volume 69, 'Hello Spring,' is set to hit the airwaves this Friday, April 7th, and it's packed with the finest in Soul and RnB.
As always, Mac has curated a playlist that will have you feeling the rhythm and moving to the beat. From classic hits to fresh new tracks, 'Hello Spring' has it all. So sit back, relax, and let Mac take you on a musical journey that you won't soon forget.
Make sure to tune in to Mac's SoulCafe this Friday and get your weekend started off right. The rotation starts on April 7th, so mark your calendars and don't miss a beat!"