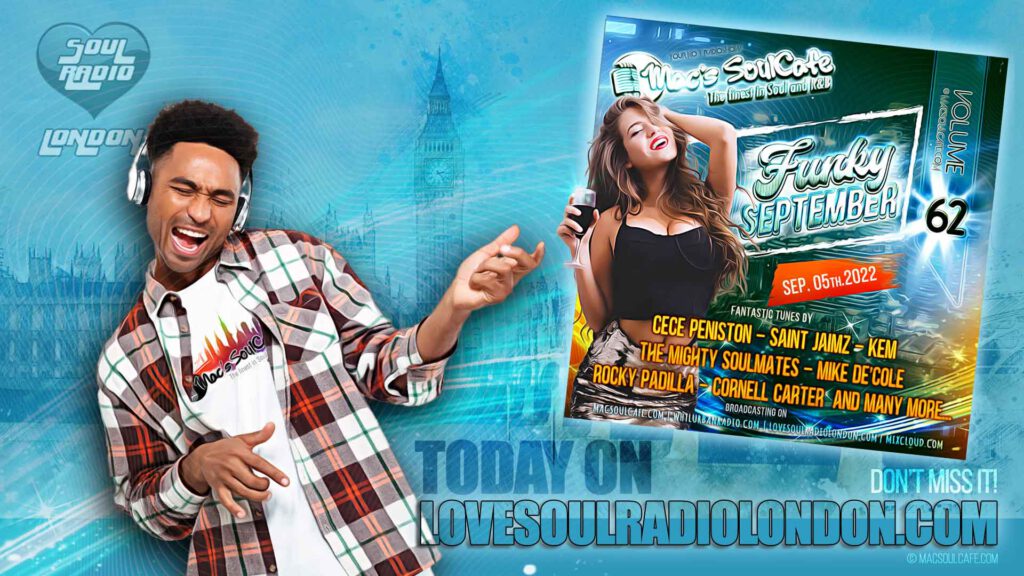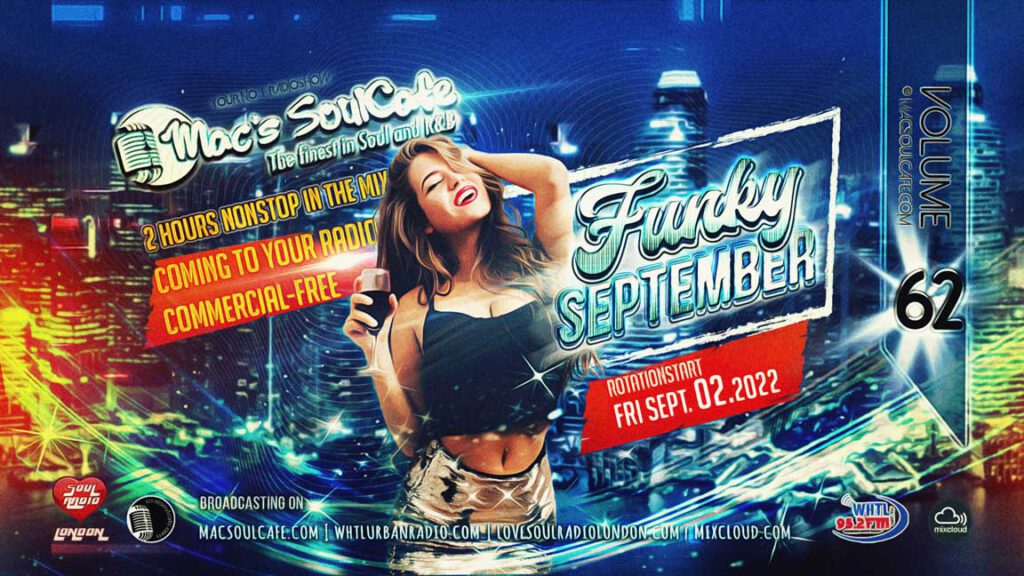 Time for a new episode of Mac's SoulCafe, The finest in Soul and R&B "Funky September" 09.2022.
Rotationstart Friday September 2nd 2022!
In this episode we really let it rip, Soul, Funk, RnB and Soulful House are on our playlist.
The perfect mix for a great party, come and join us for 2 hours of nonstop in the mix, and as always free of commercials!
On our playlist this time are
Cornell CC Carter
Snoop Dogg
Rocky Padilla
G.Funk
George Clinton
Parliament
Brick
James Brown
Prince
Devon Howard
KEM
Shirley Jones
The FunkFathersBand
The Whispers
Maurice Joshua
The Mighty Soulmates
Saint Jaimz
Alfonzo Blackwell
Raheem Devaughn
Jamecia Bennett
Ricky Jones
Kloud 9
Slater Joel
Paris Ford
Roderick Realhammersmith Dolphin
Kevin V. Richardson
Cale Austin
Diamond Ortiz
Zhané
Da Liberal Soul
Dossi
Chris Jasper
LeNora Jaye
Jerry Bell
Sheila B.
Sexi Zhocolate
Mike De'Cole
Lovd Ones
FAT LARRY S BAND
DJ Who feat. Mr. Talkbox
Peggy Blu
CeCe Peniston
Mike Murray
Tavares
Sound of SuperBad
Cool Million (Feat. Laura Jackon)
Kraak & Smaak
Immaculate Styles feat. Lisa Shaw
Herb Middleton
Marc Staggers
and many more…
Broadcasting on
macsoulcafe.com,
whtlurbanradio.com, Cleveland, Ohio, USA,
home of the No. one Radioshow Mac's SoulCafe!
lovesoulradiolondon.com straight from London, UK
mixcloud.com, worldwide
Streaming 24/7, commercial-free, reaching 177 countries around the globe!
We promote your record, send it to promo@macsoulcafe.com
Missed one of our shows? No problem!
https://www.mixcloud.com/…/macs-soulcafe-the-finest…/+
Find us on www.mixcloud.com/e-mac-herbert/
You can listen to all shows 24/7, as often as you want! (Only the first hour!)
The 2hours show will be broadcast only on the given radio stations!