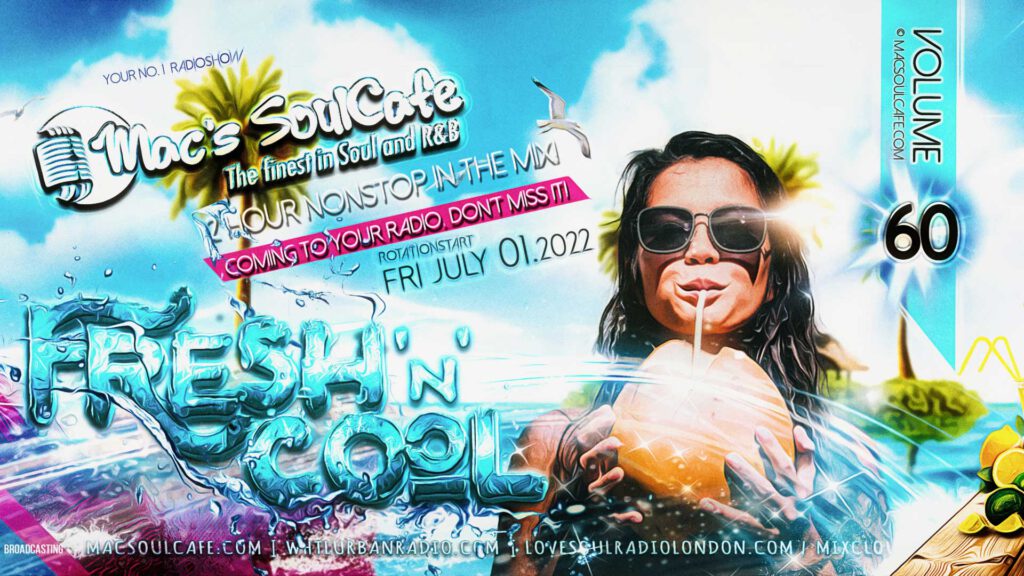 SUMMER 2022
It's just too hot, or what do you think?
Mac's SoulCafe, The finest in Soul and R&B, Volume 60 "FRESH 'N' COOL", 07.2022
Now a few fresh drinks and cool music would be just the right thing!
Are you with us? We have 2 hours packed with summer hits, fresh and cool, just the thing for this heat.
Today, Friday July 01st. 2022 is the rotation start of the brand new episode of Mac's SoulCafe, The finest in Soul and RNB, Volume 60, "FRESH 'N' COOL" 07.2022.
Our playlist is packed with summer hits from all over the world,
"Fresh 'N' Cool", featuring this time:
Cornell C.C. Carter
The B.B. & Q. Band
Evelyn 'Champagne' King
Alex Di Ciò
Miguel Migs
Martin Luther
Lisa Shaw
JOEY NEGRO
Simon Kennedy & Sartorial
Jody Watley
Darren Giles
Leroy Allen
WENDELL B
The Bar-Kays
Ellison Kendrick
Roderick Realhammersmith Dolphin
Stacii Adams
Terri Green_ft. Reggie Staggers
Paulette Tajah
DW3 feat. Greg Manning
Tanqueray Hayward
Diamond Ortiz
GEOFF WADDINGTON
TAMEKA JACKSON
Mike Champion
Alex Puddu
Rob Hardt
Immaculate Styles
Diane Marsh
Ce Ce Peniston
Bey Bright
MF Robots
Montell Jordan
Paris Ford
Solo
The Bonfyre
Rick Ross
Regi Myrix
Hil St Soul
Men at Large
and many more…
Broadcasting on
macsoulcafe.com,
whtlurbanradio.com, Cleveland, Ohio, USA, (daily at 5pm)
home of the No. one Radioshow Mac's SoulCafe!
lovesoulradiolondon.com straight from London, UK (every monday)
mixcloud.com, worldwide (365 – 24/7)
Streaming 24/7, commercial-free, reaching 177 countries around the globe!
We promote your record, send it to promo@macsoulcafe.com
Missed one of our shows? No problem!
https://www.mixcloud.com/…/macs-soulcafe-the-finest…/+
Find us on www.mixcloud.com/e-mac-herbert/
You can listen to all shows 24/7, as often as you want! (Only the first hour!)
The 2hours show will be broadcast only on the given radio stations!