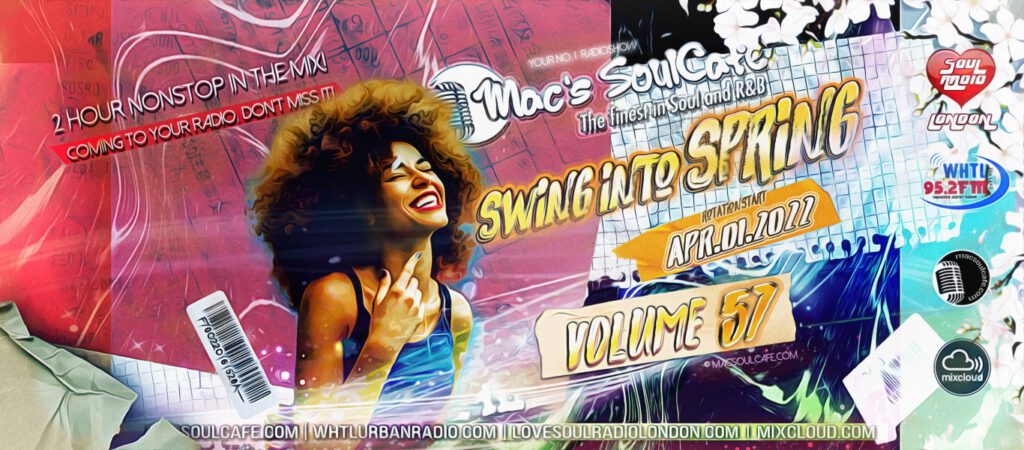 Come join me, "SWING into SPRING", we have fantastic music for you, fresh from the studios from around the globe, for you compiled, perfect to enjoy the spring.
The new episode of Mac's SoulCafe, The finest in Soul and R&B " SWING into SPRING" starts on Friday 01th of April 2022.
Included are
Gloria Tells
Maxwell
Vivian Green
Samara
Dennis Taylor
Christopher Williams
Joe-Leavy
Elisha Laverne
Blue Lab Beats
B. Thompson
Charlie Wilson Brand New Release
Robert IMtume Owens
Errol Cole
Conya Doss
Band Of Pockets
The Ton3s
Lori Williams
Makeda
Sinead Harnett
Marshella Griffin-Larry
Marshella Muzic
Kevin Ross
Andy Stokes- Brand New Release
Sinead Harnett
Cheryl Lynn
Moni Long
Lalah Hathaway
Cardell
Al Lindsey
Anita Baker
Stacii Adams
Walter Beasley
Will Downing
and many more…
Broadcasting on
macsoulcafe.com,
whtlurbanradio.com, Cleveland, Ohio, USA,
home of the No. one Radioshow Mac's SoulCafe!
lovesoulradiolondon.com, London, UK
mixcloud.com, worldwide
Streaming 24/7, commercial-free, reaching 177 countries around the globe!
We promote your record, send it to promo@macsoulcafe.com
Missed one of our shows? No problem!
Find us on www.mixcloud.com/e-mac-herbert/
You can listen to all shows 24/7, as often as you want! (Only the first hour!)
The 2hours show will be broadcast only on the given radio stations!
Attention all radio stations,
if you also want to broadcast our No.1 radio show Mac's SoulCafe, The finest in Soul and R&B, write to promo@macsoulcafe.com. We look forward to it.