Mac's SoulCafe, the finest in Soul and R&B, Volume 50 is here!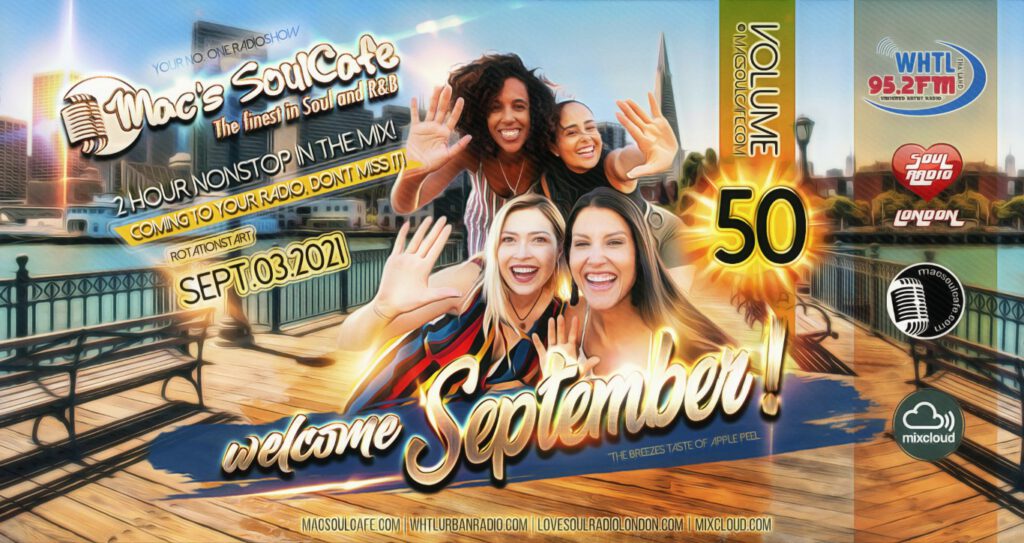 September, time for a new episode of Mac's SoulCafe. This time we have an anniversary episode, our 50th show! We have brand new releases from all over the world, fresh from the studios. You're in for a treat.
Here is a small excerpt of this Playlist
Rotationstart Friday SEPT. 03th. 2021
Mac's SoulCafe Volume 50. "welcome September" 09.2021.
Soon on your favorite Radio Station!
2 hours nonstop in the mix!!
Don't miss it!
On the playlist
Tony Walk
Christopher Williams
Randy Hall
Earth, Wind, and Fire
Lucky Daye
Eddie G
Show Tyme
After 7
Sound of SuperBad
Barin Power
Dave Mascall
Kim Tavar
and many more…
broadcasting on:
macsoulcafe.com
WHTL 95.2FM THA LAND
whtlurbanradio.com, Cleveland, Ohio, USA,
home of the No.1 Radioshow Mac's SoulCafe, The finest in Soul and R&B.
Tune in daily at 5pm!
lovesoulradiolondon.com – LONDON, UK
every Monday at 12:00am
mixcloud.com
Streaming worldwide 24/7 around the globe.
You can find Mac´s SoulCafe, all shows on mixcloud.com – making radio better!
https://www.mixcloud.com/e-mac-herbert/