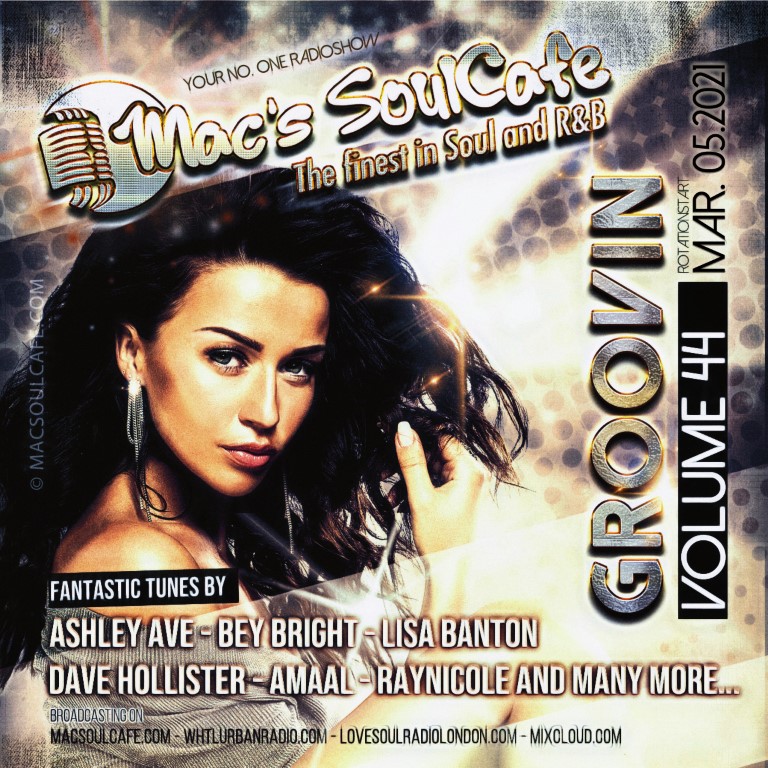 It's Friday the 5th of March 2021, we kick off the weekend with the brand new episode of
Mac's SoulCafe, Volume 44 "GROOVIN".
Enjoy with us 2 hours of fantastic tunes, fresh from the studios!
Brand new jams from around the world, commercial-free, nonstop in the mix!
Broadcasting on your favorite Radio Station!
Don`t miss it!
On the playlist are:
Lou Draws
Neo
Rudi Wilburn
The Groove Association
Georgie B
Deborah Bell
Terry Ronald
Nigel Lowis
Peter White
PrivatProjekt
Stefanie S.
Nigel Lowis
Cee Boo
John Legend
Alex Puddu
Rodney Stith
Lisa Banton
DJ Soulchild
Miracle Thomas
Rob Hardt
Kem
Brian Culbertson
Ricky Jones
R.Kelly
RayNicole
Bradd Marquis
Montell Jordan
2hour
Will Downing
Signature Smooth
Dan Johns
Laura Rain
The Caesars
Alex Puddu
Yolanda Parker
Calvin Richardson
Michael McDonald
Calvin Harris
The Weeknd
Tall Black Guy
Devin Morrison
Bay Area
Janet Jackson
Alycia Bella
Ashley Ave
Donell Jones
D.Folks
KeKe Wyatt
Dave Hollister
Robin Thicke
Surface
Bey Bright
and more…
Broadcasting on
macsoulcafe.com,
whtlurbanradio.com, Cleveland, Ohio, USA,
home of the No. one Radioshow Mac's SoulCafe!
lovesoulradiolondon.com, London, UK
mixcloud.com, worldwide
Streaming 24/7, commercial-free,
reaching 177 countries around the globe!
We promote your record, send it to promo@macsoulcafe.com
2 hours nonstop in the mix!
Support your artists, when you like it, buy it!
Missed one of our shows?
No problem!
On www.mixcloud.com/e-mac-herbert/
you can listen to all shows 24/7, as often as you want!
(only the first hour!)
The 2hours show will be broadcasted only on the given radio stations!