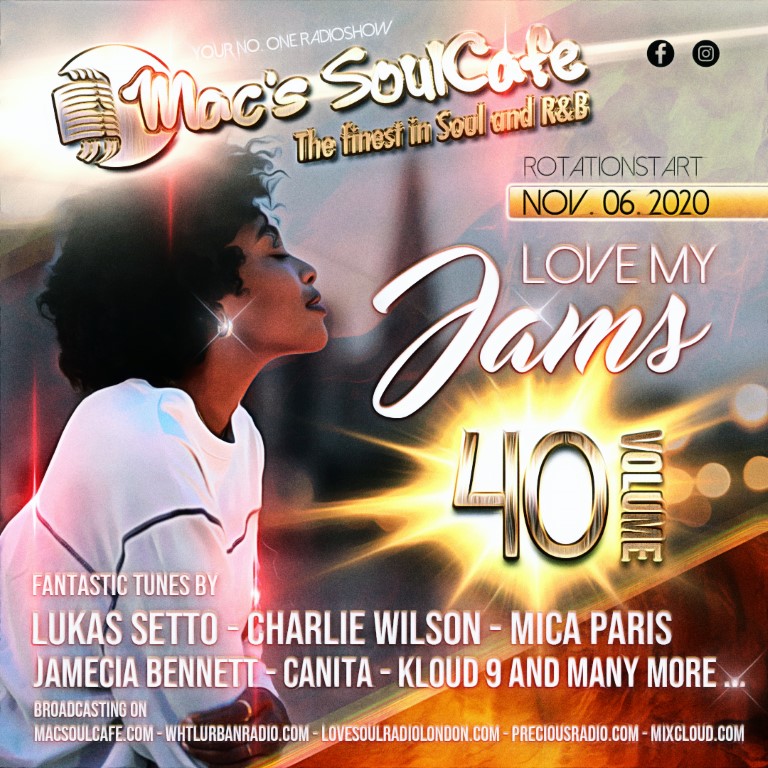 It's time again for a new episode of Mac's SoulCafe,
Volume 40, "LOVE MY JAMS" 11.2020 is on the way!
Start Nov. 06th. 2020 on WHTL 95.2 FM THA LAND,
Cleveland, Ohio – whtlurbandradio.com
Now here it is, the brandnew episode of
Mac's SoulCafe Vol.40 11.2020
"LOVE MY JAMS"on-air!
1 and 2 Hours nonstop in the mix!
(Attention, the 2hour special is broadcasting on the radio stations below only!)
Commercial free!
Fantastic tunes from around the globe by:
David LC Thomas
Diamond Ortiz
Unique
Victor Haynes
The Spinners
Cool Million
Matthew Winchester
Raquel Rodriguez
DW3
Magic Lady
Mario Biondi
Carmichael Musiclover
Lukas Setto – NEW RELEASE
Raheem Devaughn
Jamecia Bennett
Aname' Rose
CANITA ft NOEL GOURDIN "NEW RELEASE"
Charlie Wilson
Smokey Robinson
Kloud9
Mica Paris
Calvin Harris
Tony Terry
OMario
and many more…
Don't miss it
Enjoy another 120 minutes of the finest in Soul and RnB.
Streaming 24/7 around the globe, reaching 177 countries.
Broadcasting on
macsoulcafe.com
whtlurbanradio.com Cleveland, Ohio, USA
preciousradio.com Los Angeles, California, USA
lovesoulradiolondon.com London, UK
mixcloud.com
We promote your record around the globe, send it to promo@macsoulcafe.com, your No1.UrbanRadio
Attention, the 2hour special is broadcasting on the radiostations above only!